Packaging Recycling For LG Products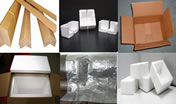 LG Electronics has established a mail back program for consumers in the US to recycle LG Packaging Material (Expanded Polystyrene Foam, High Density and Low Density bags (HDPE and LDPE) and cardboard) used for LG products. Consumers are responsible for the packaging of the material to be recycled.





Mailback Recycling

A mailback recycling option is available for recycling your LG packaging. You must package the item and only items weighing less than 50lbs are allowed. Click here to order a mailback label. After ordering you will receive instructions and complete your label via email.